About the MASLD Research Center
Themetabolic-dysfunction associated steatotic liver disease (MASLD) Research Center is dedicated to performing cutting-edge translational research. Responding to the needs of our patients, we pursue more effective treatments and less invasive diagnostic and monitoring methods. Center Director Rohit Loomba, MD, MHSc, leads a multidisciplinary team of trainees, nurses, clinicians and scientists.
About Dr. Rohit Loomba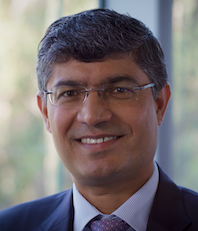 Rohit Loomba, MD, MHSc, is a leading expert in translational research and innovative clinical trial design in metabolic-dysfunction associated steatotic liver disease (MASLD). He is the founding director of the UCSD MASLD Translational Research Unit where his team is conducting cutting edge research in all aspects of MASLD including non-invasive biomarkers, genetics, epidemiology, clinical trial design, imaging end-points, and integrated OMICs using microbiome, metabolome and lipidome.
Recent Publications
First-Degree Relatives of Patients with NAFLD at Risk of Liver Disease
In a new study, researchers at the University of California San Diego School of Medicine found that first-degree relatives of patients with NAFLD characterized by advanced fibrosis are at a 15% risk of developing the condition.
"Until now, first-degree relatives accompanying their loved ones with liver disease for medical treatment didn't know they were at a greater risk of developing advanced fibrosis themselves," said Rohit Loomba, MD, the study's first author, professor in the Division of Gastroenterology at UC San Diego School of Medicine and director of hepatology at UC San Diego Health.
The results, published in the online edition of Journal of Clinical Investigation, shine a spotlight on the importance of early screening of both siblings and offspring of patients with NAFLD.
Contact
Patients:
Physicians:
Contact Us
9452 Medical Center Dr.
La Jolla, CA 92037
Phone: (858) 246-5417
Fax: (858) 246-2255
nafld@health.ucsd.edu